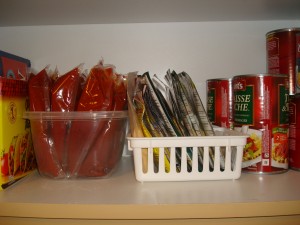 What does your pantry look like? Do you know what is in it? Is there anything that is expired or you have no idea what it is for or when you bought it? These are common issues in lots of pantry across the country. Most people have limited amount of space in their kitchen so why waste this prime real estate for unused or expired goods.
The following are tips to help you tackle that often misused space and regain control:
Store like items together, pick categories such as baking needs, lunch items, and large bulk items.
Use expandable shelving units to increase use of space.
Use  small containers to store items that do not stand up on their own. Some items include gravy mixes, sauces, spices and oatmeal packages.
Roll out drawers help to access hard to reach areas in the back of cupboards making them usable and limiting the potential for things to get lost in the back.
Using an over the door shoes organizer, Use back of the door if space permit to store spices, teas, items that you want quick access to.
Label shelves to make it easy for ALL family members to know where things go and to make it easier to tell when you are out of an item.
Store children's snacks and stuff on lower shelves so they can easily access them, they may even get in the habit of putting them away.
Go through pantry every two months to remind yourself what you have and discard any outdated items.
Take some time this week to clean out your pantry and organize it in a user friendly way, it may even inspire you or a family member to cook up a storm this week. Bon Appetit!