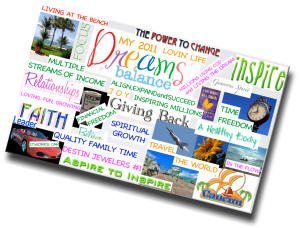 What You Focus on Expands!
What are you focusing on this year? Make the time today to create in pictures and words what you  want to manifest in your life!
Next Session October 2, 2012
Time: 7pm – 9pm
Cost: $20/person
Why a Vision Boards?
1. Helps you create  your goals
2. Helps you  stay Focused
3. It will  Encourage  You throughout the year
Besides it is so much fun to play like a kid again, cutting,  pasting,  coloring and dreaming!!
We start each session with a discussion on goals and dreams and them have a meditation to bring intention and energy to the process. Thinking about a theme, a word or whatever comes to you. Trust your intuition during this process and follow the path it is leading you to.
We will provide Poster boards, crayons, markers, glue and some magazines.
You bring your  dreams, ideas and any particular  pictures you KNOW you will want on the Board.
Register Now:
Or Contact Kim at 850-1933 or kim@kaossolutions.ca
Or Book Your Own Vision Board Party Today (minimum 5 people)